A mixed birthday bag . . .
Last Thursday I celebrated my 36th birthday and when I say a mixed birthday bag, I don't mean a mixed bag of presents. I mean I've had a pretty mixed bag as far as birthday celebrations go. My birthday always feels like it lasts a couple of days because my Mum's birthday is two days before mine, so we have always gone out for the day on her birthday, Hubby takes the day off on my birthday so that we can go out for the day and then the day after my birthday Mum has another day off so that we can go out for my birthday and to top it all off, our birthdays are generally close to the May Day Bank Holiday so Hubby is at home for a long weekend.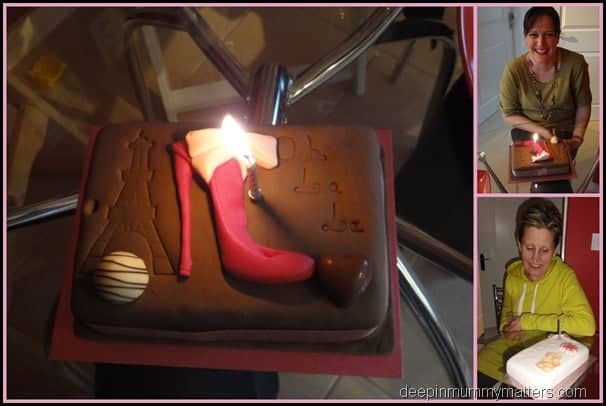 Even at 36 I'm still a big kid and look forward to my birthday each year, not because of the presents (although I do love presents) but because of the extra time I get to spend with my family and we always make the effort to do something a little bit special.
Unfortunately this time around the weather has not been with us and so for each of the days that Hubby or Mum took off (and over the weekend) it has rained persistently so all plans to go somewhere fun were cancelled because we tend to like outdoor activities. On the day out with my Mum I popped into a shop to buy some bleach on the way home only to realise that the bottle had leaked all down my coat and trousers, so they are now ruined.
The evening before my birthday we received a message from Curly's Mum to say that although it was our weekend to have Curly, she wondered if she could have him for the day on the Saturday as they all planned on watching the FA Cup Final together. Hubby said that since Saturday was the only day that I would be able to celebrate my birthday with Curly we had planned on going out for the day. They suggested that the decision was left to Curly and he chose football so naturally I was upset. People don't seem to understand that despite Curly being my stepson, I love him just as much as Little Bean and Beanie Boy so I look forward to spending time with him too.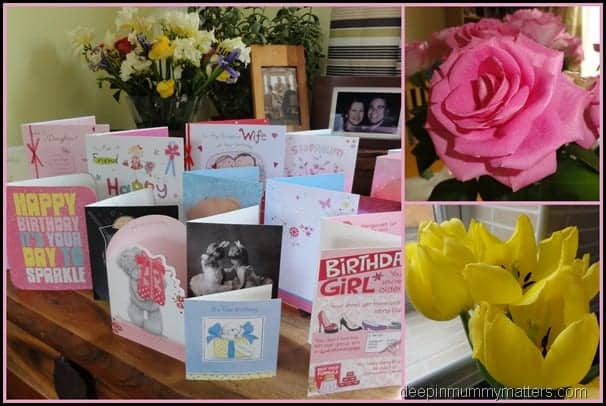 At 8am on my birthday I was woken by my gorgeous babies clambering all over me to give me birthday presents, kisses and best of all lovely long cuddles. Little Bean excitedly asked me to open each present, you would have thought it was her birthday she was so excitable. Beanie Boy on the other hand just threw his present at me then went to find a book. The four of us went out for the day but the rain was the heaviest it had been all week so we hit the shops and went out for lunch before returning home for a birthday tea. I was totally spoilt and received lovely presents from everyone including new GHD's, clothes, flowers, jewellery, make-up, photo frames, books, booze, chocolates and lots of pennies to buy myself some new rags.
On Saturday all plans of a family day went out of the window, Curly returned home to his Mum and I caught up with work. Then in the evening my sister and brother-in-law came to say 'sans les enfants' so that we could all go out for the evening, would you believe it our first night out together EVER!! We enjoyed a yummy Indian meal before hitting the bars and going for a boogie. A good night was had by all, at least our heads certainly felt that way in the morning!!!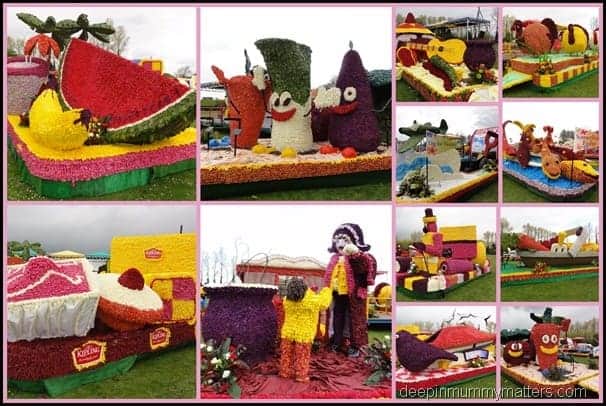 Once my sister had returned home the five of us went over to Spalding to see all the floats on display from the Spalding Flower Festival the day before. As usual the floats were really impressive, this year's theme was Food Glorious Food, a theme after my own heart! If you have never been to the Flower Festival before then you really should, the effort that goes into decorating the floats is so impressive, it must take weeks to prepare and it's always a great party spirit.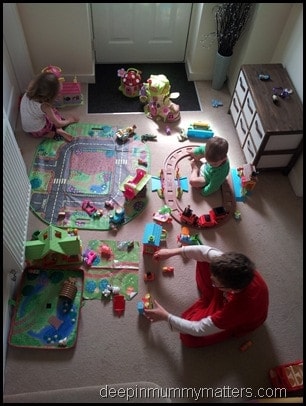 When we arrived home we all sat down to watch a family DVD together and hide away from the rain outside. It's so nice to snuggle up under the big fleece blankets on days like that and just chill, it's probably the only time that we really relax as a family as we are always so busy doing our own things.
As for today, our plans have been scuppered again. For most of the morning the children have played really nicely together with all their Happyland toys whilst Hubby and I have been trying to get the house back into some kind of order before getting back to the usual manic schedule.
What did you do this Bank Holiday? What do you do when it rains because we seem to lose all sense of adventure once the rain comes?