A down day!
It happens doesn't it, you have a run of lovely days where everything feels magical and nothing goes wrong and then bang, it all disappears and you feel like crap!
I know I just need to give myself a kick up the backside but hey, I'm pregnant and swimming with hormones so let me have this moan will you!
Today I was supposed to be spending the day with a really good friend but due to unforeseen circumstances we've had to postpone.  We haven't had a good catch up in ages as something keeps cropping up but we WILL get there eventually, and it will be worth it.  It always is! 
bencrowder.net
The weather has turned from glorious sunshine to rain (though I have to be honest and say I'm quite pleased about that – because its too hot to be pregnant) but now my mood feels about as wet as the weather.
I feel like I keep making loads of effort to do things for other people and it gets slapped back in my face, like I'm the bad guy.  I'm a giving person, always have been, always will be – that's just my nature but sometimes I wish I wasn't because it doesn't get appreciated all of the time.  At times you really want to tell people to "just forget it" but then my conscience kicks in and tells me that I can't say that or I'll just upset them.  Just get on with it and pretend everything is ok.  Well it isn't!
djibnet.com
I get stuck in the middle when friends fall out, they moan about each other to me and then I feel like I'm being two-faced to either of them because I'm allowing the other one to say such things.  What I really want to say is, "if you have a problem – that's between you guys so you go sort it".  But I don't, I just hide those friendships from each other and hope that everyone will be happy.
We have moved house once this year into rented property whilst waiting for our new house to be built.  We've had to move about 5 miles out of town which to begin with didn't seem that far but now I joke that I've been moved to Coventry because that's how it feels.  There is nowhere here to go to for nice walks as its right on a main road and so I feel trapped.  I don't like to drive out every day as I feel that it wastes fuel so I turn to my computer or crafting when Little Bean is asleep.  I was starting to see the light at the end of the tunnel as our house was due to be completed at the end of this month but we received a call at the weekend to say it has been delayed by a month to the end of August!! Boo, our baby is due in September so I'm really hoping that we will be in and settled before he decides to show his face.  I really want to get Little Bean settled into her new home before the excitement/upset (we have yet to see which it will be) will change her life once more.  She's been such an adaptable little girl this year already, I don't want to push her boundaries too far.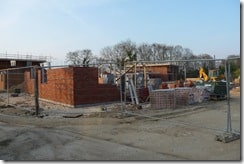 And then there's this wonderful world of blogging.  Sometimes it feels like you're back at school, doing your best to make friends but avoid the bitching and back-stabbing.  You want people to know who you are but let's face it, we're not all good at "bigging" ourselves up or butting in.  When I first started out on twitter, I felt like the new kid at school, skirting around groups of kids having conversations just hoping that one day they might invite you in.  When I initially dipped my toe in the water, I felt like I was being rude or pushy, like I was saying "hey talk to me" but thankfully I've met conversed with some really lovely, likeminded people who have made me feel very welcome.  Some of the first people who started following me, have never made any contact whatsoever and I feel a little bit like they were the "cool gang" checking me out to see if I was "hip enough" to be in their clique but I didn't quite make the grade.  Its as if your face or your gravatar doesn't quite fit.
highlightskids.com
I've been very lucky in my blogging ventures, as I say I have met some lovely people and been given some fantastic opportunities that wouldn't have been possible were it not for my blog.  But I've also met bloggers at events that I have felt have looked down their nose at me, like I don't quite cut it in their world.  They've probably never even read my blog and know nothing about me, but its still ok to judge and decide that I'm "not in".  Its times like that when I feel sad as I thought when you left school, you left all that rubbish behind you but it turns out, certain people are always like that.  Probably because they've never been on the receiving end.  You know its not nice, sometimes these people should ask themselves how they would feel if the boot were on the other foot!
But that's about it really, my life is actually pretty rosy.  I have a wonderful husband, who also doesn't get the appreciation he deserves.  I have a step-son who has overcome a lot in his nearly 9 short years and is a loving and caring big brother to his little sister.  And then there is my Little Bean, the light of my life, even on the bad days, doesn't fail to make me smile.  I have a brilliant family around me and some great friends who enrich my life.
blogs.stleoscarlow.ie
We can't always have it exactly as we want and not every day is going to be great but it doesn't hurt to have a little moan and get it off our chests every now and then does it?  You see, I'm feeling better already – so if you have read this post – thanks for listening!!!