47/365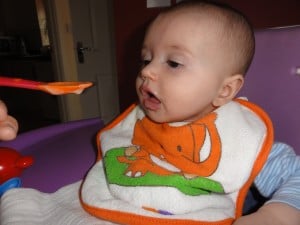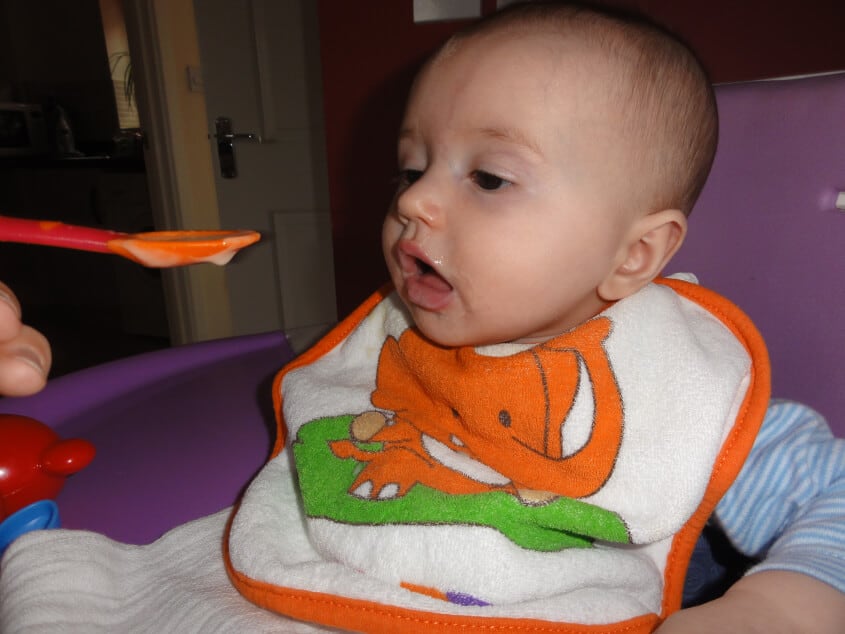 I can't decide whether weaning is going well or not? We've gone backwards in regards to carrots, he definitely doesn't like those at the moment but he's starting to accept pear at little bit more. Tonight I tried him with a sweet potato, parsnips and blueberry puree. Despite initially pulling a few faces, he actually managed to finish the bowl off. As a general rule he only likes bland baby rice or porridge.
What I do love about weaning Beanie Boy though is his little face, the second the spoon is taken away he turns into a little bird with his mouth wide open waiting for the next spoon to appear.
48/365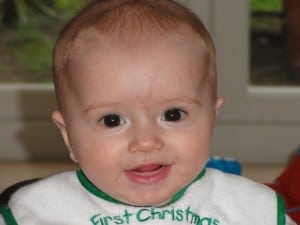 OK so its not Christmas anymore but at the end of the day a bib is a bib! On an average day I get through about 8 bibs so I need all the bibs I can get my hands on.
Just look at my beautiful boy, hasn't he got the most gorgeous eyes ever – I know I'm probably a bit biased but I could look into these eyes all day long.
49/365 – Daddy's are sooo much fun!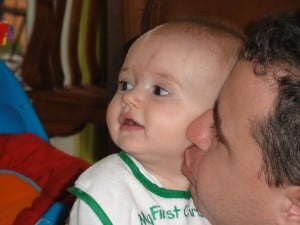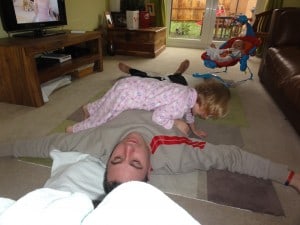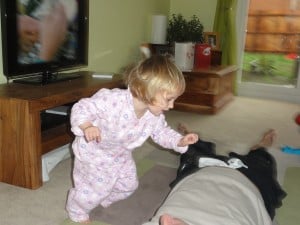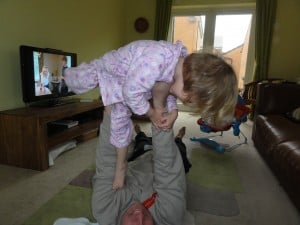 50/365 – Getting bigger every day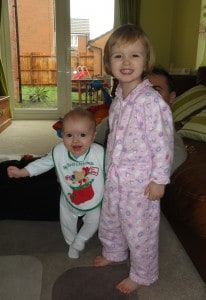 I can't believe how quickly my little man is growing and every day I'm so proud of the relationship that is blossoming between Little Bean and her baby brother. She is the best big sister ever and is always so good with him. She gets so excited when he wakes up from his naps, she can't wait to go and see him. I hope this is a relationship which will continue to bloom and grow over the years.
51/365 – DISASTER!!!


This was just ONE of the error messages that I was presented with on my laptop over the weekend. To say that I had a stressful time with it is a massive understatement.
It is still lying more than dormant on the dining room table, awaiting some kind of miracle. For the time being my lovely husband has loaned me his laptop so that I'm able to keep up with my blogging – amongst other things!
52/365 –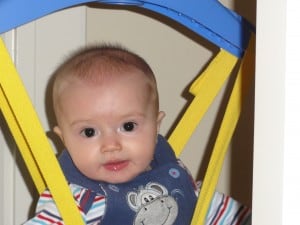 Hanging around . . .
This is without doubt Beanie Boy's favourite play thing, he gets so excited when I put him in his bouncer. He jumps and squeals and bounces all around. I tie a baloon to the seat which he kicks around and hits with his hands.
53/365 – Friends and fresh air!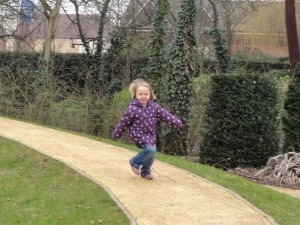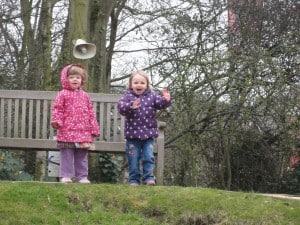 Sabina Green began blogging in 2009 as a work at home Mum raising her young family.She loves photography, movies, music, reading and spending time outdoors with her family.
Latest posts by Sabina Green (see all)