37&38/365–Ooops did I miss a day?
Clearly won't be taking after Mummy!
Did you see my post yesterday regarding the Jamie at Home DVD giveaway? Well I took this photograph when I was watching the DVD's myself. I had to laugh at Little Bean as she was totally transfixed my Jamie Oliver and his cooking, in fact, so much so that when the DVD she finished she said "I like that Mummy, put it on again". It looks like she will be taking after Daddy in the cooking department because I don't enjoy cooking at all!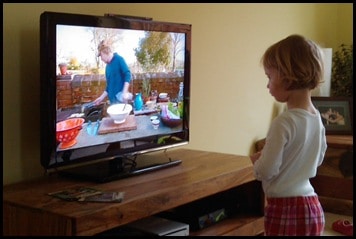 It's a hard life!
Poor old Daddy, I think life is catching up with him at the moment, I took this photograph yesterday morning (it was going to be my very first Silent Sunday post but I forgot to publish it!). Daddy was having a snuggle with Beanie Boy in an attempt to get Beanie Boy to sleep but obviously his attempts worked on himself too – bless them xx