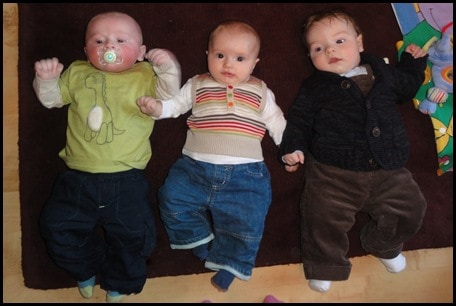 Whilst I was pregnant I attended Aquanatal Yoga Classes through Calm-a-Baby in Peterborough, I had always wanted to do the classes when I was pregnant with Little Bean but I never got around to it.  So when I fell pregnant with Beanie Boy, I promised myself that I would get myself booked in at the earliest opportunity.
The classes were brilliant, soooo relaxing I'm not sure whether I drove home or floated, I certainly slept well (at home, not in the car!).  The classes were designed to aid relaxation and to open up the pelvis in preparation for birth.  We were taught breathing techniques which would help us in labour and do you know what, they really did help!  I'm not generally very good at relaxation and switching off to the outside world but when I attended the aquanatal classes something clicked within me.  Suddenly I was able to connect with my subconscious and my body, in labour I managed to focus on my breathing by imagining that I was back in the pool – at times during labour I had panic attacks but through my mind I was able to calm myself again using the techniques I had learnt.
The other fantastic thing about the aquanatal course was meeting some great new friends.  During the time I attended there were five of us due around the same time and we all went on to have boys.  We have managed to keep in touch with each other through Facebook and texting.  On Friday I met up with one Mummy and her little boy, today we were all to meet up but unfortunately some were sick.  This photo is of Baby B, Beanie Boy and Baby N.  Baby N was born 3 days before Beanie Boy and Baby B was born two weeks after – I think its fair to say that my little man is the titchiest of the lot.