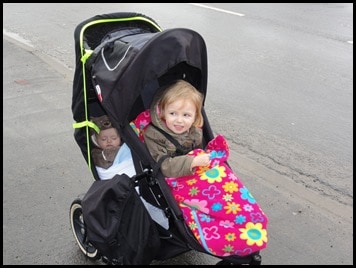 Ok so I've cheated a little with this picture – I actually took this photograph yesterday but I forgot to take one today so I thought I'd use this instead!
When Little Bean was born I used to go out walked every single day but since Beanie Boy has come along I don't go out as often as I'd like to because its such a military operation getting everyone and everything sorted.  Yesterday morning we arranged to meet Karin (Cafebebe) and Little Miss for a walk at 11am but as usual I was late, an hour late to be precise – Karin is quite used to me by now!  By the time we finally got there it was raining and I totally forgot to pack my rain cover for the Phil & Teds (actually I'm not too sure I even know where it is?).  After digging around in my boot I found my uber-versatile Snoozeshade which came in pretty handy as protection for Beanie Boy in the back, he was obviously snug enough as you can see he's sleeping quite soundly.
Note to self, must walk more often!!
Latest posts by Sabina Green (see all)