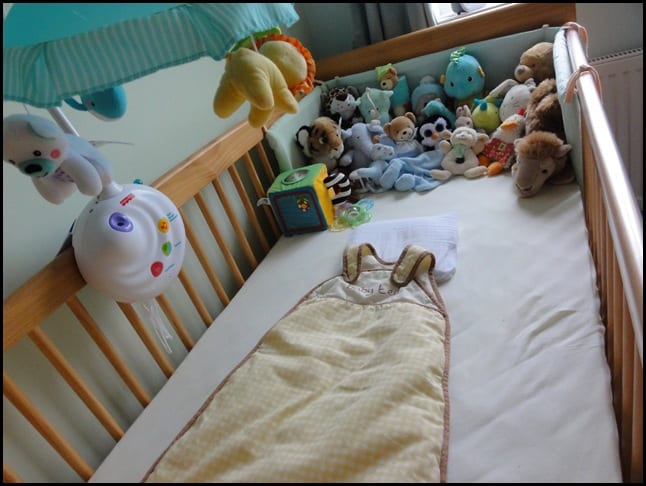 Last night, Beanie Boy spent his first full night in his own bedroom.  When we brought Little Bean home from hospital she went straight into her cot from the start but Beanie Boy was a choker initially so we decided he would sleep in a Moses basket in our bedroom "for one week".  Well he turns 17 weeks on Tuesday so he's managed to stretch it out quite nicely.  I've made so many excuses for him to not go into his own room; he's still choking, when his cold has gone, when we have a new monitor, when we have found something to elevate his cot at one end, by Christmas, by New Year . . . .  and then this week I woke up one night (for about the third time) and that's when I knew it was time for him to go to his own bedroom.  I was so nervous last night when I went to bed, I must have checked on him about 4 times before finally getting into bed, then I checked the monitor over and over again. 
I also decided that I wouldn't wake him for a dream feed at 11pm last night because recently its been so hard to wake him for it and then he only feeds for about 5 minutes.  So he went to bed at 8pm after his bath, massage, story and feed and didn't wake up until 4am.  He fed really well for about 15 minutes and then went back to sleep until 7.30am.  Tonight we will try the same routine again and see how things go.
Times are changing and I know that my baby is ready to move onto the next stage, I need to let him progress at his own rate and not try to keep him as "my baby"!