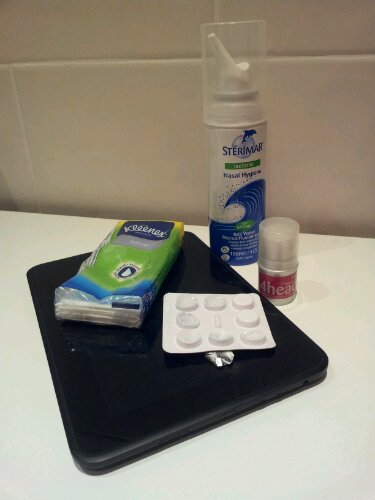 Today i woke with an awful migraine and couldn't face getting out of bed. Hubby took pity on me and asked his parents to take care of the tiddlers for me (as they still had temperatures and couldn't go to school) so i was able to spend the day in bed.
I slept until 12.30pm when i got up to have a bowl of cereal and a pint of water before returning to bed where i slept until 2.30pm. My only companions for my waking hours were my Sterimar Isotonic to clear the airways, my paracetamol and 4Head to ease my headache, my Kleenex Balsam tissues to save me from looking like rudolf and my Kindle Fire HD to keep me entertained when i wasn't sleeping. I really missed my tiddlers but there was no way i could have played referee today and at least it gave them an opportunity to miss me and give me the biggest cuddles when they came home.
Fingers crossed i Will sleep better tonight and feel brighter tomorrow!!
Latest posts by Sabina Green (see all)